"I have a passing fondness for explosions."
Book: The Fixer
Author: Jennifer Lynn Barnes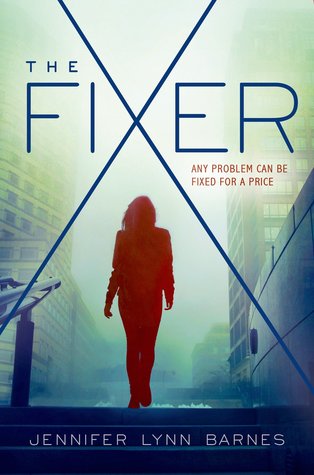 Blurb:
Sixteen-year-old Tess Kendrick has spent her entire life on her grandfather's ranch. But when her estranged sister Ivy uproots her to D.C., Tess is thrown into a world that revolves around politics and power. She also starts at Hardwicke Academy, the D.C. school for the children of the rich and powerful, where she unwittingly becomes a fixer for the high school set, fixing teens' problems the way her sister fixes their parents' problems.
And when a conspiracy surfaces that involves the family member of one of Tess's classmates, love triangles and unbelievable family secrets come to light and life gets even more interesting—and complicated—for Tess.
My thoughts:
This book is freaking fantastic. It's the first mystery/thriller that I've enjoyed in a long time. This is three hundred and eighty-four pages of rebellion, sarcastic witticisms, determined girl heroines (who are more spice than sugar), well-rounded side characters, untraditional but caring families and an intense mystery.
There's no way to make this clearer: I love Tess. Tough, determined, sarcastic, brave and protective- how could I not?
"There are a lot of ways to castrate a bull," I said, my words deliberate and slow. "You can band the balls off, so they shrivel up and die. Or you can take a knife, and slide it just so." I demonstrated with my free hand. "I grew up on a ranch. I know a lot about castrating bulls."
I loved reading from her point of view. She was mature and passionate, but simultaneously relatable. She made you feel for her.
This is not a book where adults play no role (thus avoiding one of the major YA tropes)
Her 'sister', Ivy (I'll leave you wondering why I've used single quotes) is an impressive woman with the power to get things done. She is so put-together, mysterious and effective. She's a more badass version of Tess; it's easy to believe they're related. But at the same time, she brings different things to the table (not better, not worse- just different). To be honest, she sort of scares me, but mostly I am impressed as hell by her. I think I have a new role-model.
Adam, family friend and captain of defense, is pure awesome. There's not really any romance in this book but, I ship Adam and Ivy together <spoiler> which is kind of weird since she was once in love with his brother </spoiler>.  I dunno, they just work. Brodie, Ivy's chauffeur and bodyguard, is hilarious and makes surprising introspective comments. Potential love triangle here. I like him and all, but I like Adam better. (It's cute that I think I get an opinion).
The teens are as cool as hell. I need to poach some of Ms. Barne's magic. How else would she get the intricacies of getting such an eclectic bunch of kids to mesh so well?
Vivie is that friend that you always wanted to have. She's plain nice, but she's deceptively strong and brave too. She's supportive, willing to lend you an ear or discuss something trivial to get your mind off things. And Tess is more than willing to return the favor. One of the best friendships I have seen in YA.
Asher is adorable. He's a trouble-maker but he's so much fun, charming and up for anything. I loved reading about him- especially when he was interacting with his twin (a college obsessed twin with a surprising skill with computers who loves her brother deep down) or with a person is a position of authority. I really hope there's no love triangle with him, Tessa, and Henry because I would hate to see this bromance destroyed.
It's your favorite person."
"No. You're not."
"I won't embarrass you by proving I am."
Henry is intense, a bit bull-headed and charming in his own right. Again, I like him- but I like Asher more.
As for the plot itself, it is amazing. Priding itself on its' political intrigue, it's full of twists you'll never see coming. YA needs more books like this!
Unfortunately, I had to pause in the middle of the book because the screen got really blurry. Okay, fine-I'll admit it: this book wrung out a few tears from me.
I am unabashedly desperate to read the next book (too bad it doesn't come out until 2016). There's no other way to say this: this book was perfect.
Overall Rating: 5/5
Other Books Like This: Trust Me, I'm Lying, We All Fall Down (Embassy Row #1)