Book: Young Elites
Author: Marie Lu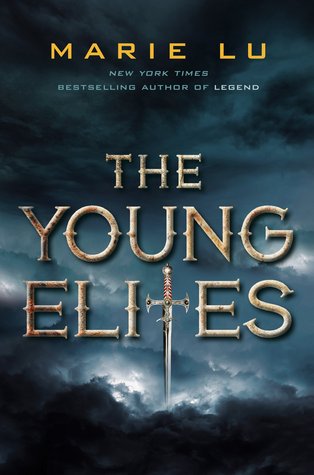 Blurb:
I am tired of being used, hurt, and cast aside.
Adelina Amouteru is a survivor of the blood fever. A decade ago, the deadly illness swept through her nation. Most of the infected perished, while many of the children who survived were left with strange markings. Adelina's black hair turned silver, her lashes went pale, and now she has only a jagged scar where her left eye once was. Her cruel father believes she is a malfetto, an abomination, ruining their family's good name and standing in the way of their fortune. But some of the fever's survivors are rumored to possess more than just scars—they are believed to have mysterious and powerful gifts, and though their identities remain secret, they have come to be called the Young Elites.
Teren Santoro works for the king. As Leader of the Inquisition Axis, it is his job to seek out the Young Elites, to destroy them before they destroy the nation. He believes the Young Elites to be dangerous and vengeful, but it's Teren who may possess the darkest secret of all.
Enzo Valenciano is a member of the Dagger Society. This secret sect of Young Elites seeks out others like them before the Inquisition Axis can. But when the Daggers find Adelina, they discover someone with powers like they've never seen.
Adelina wants to believe Enzo is on her side, and that Teren is the true enemy. But the lives of these three will collide in unexpected ways, as each fights a very different and personal battle. But of one thing they are all certain: Adelina has abilities that shouldn't belong in this world. A vengeful blackness in her heart. And a desire to destroy all who dare to cross her.
It is my turn to use. My turn to hurt.
My thoughts:
I thought the Legend series by Marie Lu was okay at best so I wasn't too excited when I heard about Young Elites. That quickly changed after I read the blurb and an interview with Marie Lu saying that she wanted to write about the creation of a villain.
Right from the start, Adelina stole my heart (and I was a willing victim).  She's deformed and is abused by her father who is willing to sell her off as a mistress for a little bit of gold. It's impossible not to feel any sympathy for her but at the same time Marie Lu has done an excellent job showing Adelina's dark hatred and her desire to inflict pain, making it obvious that she is no hero. This is made only more obvious when Adelina buckles quickly under Teren's threats against her sister Violetta to give him information about the Young Elites. I got caught up in this wondorously complex character who likes causing pain but at the same time despises herself for enjoying it. She hates her father but at the same time she really wanted to please him and I think she really did regret committing patricide. This probably makes me sound like a twisted person, but I enjoyed watching Adelina descend the steps towards insanity and darkness. I hoped for her redemption, but at the same time I knew she was never gonna get it.
Adelina's relationship with Violetta was one of my favourite book sibling relationships. Adelina resents her sister's naivety and innocence and is clearly jealous of Violetta's charisma.  Combined with Adelina's sadistic tendencies, you'd think that Adelina would do her best to hurt her sister. Surprise! She's fiercely protective of her sister and constantly thinks about her well-being.  Violetta is one of the few people Adelina loves unconditonally and she would do anything (and everything) to keep her safe and happy. Later in the book, it's revealed that Violetta has a huge secret. I can't tell you what it is without giving major spoilers but I can tell you that Adelina's love for her sister is not unrepriocated; Violetta does her best to keep her elder sister safe as well.
Contrary to what the blurb suggest, there is not a love triangle. In fact, the romance plays a smaller role than you would expect. I was not a huge fan of the love interest, Enzo. Sure, he was dark, dangerous, royal and mysterious but his coldness at the beginning of the book kind of put me off and I wasn't a fan of the tough training he imposed on Adelina. But I guess I'm kind of a hypocrite because during reading, I found myself anticipating the Adelina/Enzo scenes; they had an explosive amount of  chemistry .
So if the book wasn't full of romance, what was it full of? Action. Swords, knives and control of powers.Not just quantity but quality too. I loved  watching Adelina use her powers (even if I was somewhat creeped out at the same time). Marie Lu did an amazing job giving a description of the working of everyone's powers and the energy web. Can I just say- Wow!
On a more serious note, the book spends a huge time discussing how the scary appearance of malfettos (those are the young elites) bred first contempt and then fear amongst the society. It got worse when the government started using them as a scrapegoat for all sorts of mishaps and accidents. Stuck among a society which openly discriminated against them and reviled them, the young elites struck back with attacks. And then it continued in a pointless circle (see what I did there?) which just kept escalating. Pretty profound actually, if you think about it. I guess it reminds us not to hate people just cause they look different, or act different.
This book doesn't have much of a storyline but I found myself enjoying it just the same. It was all thanks to the elaborate world-building and awesome characters. At parts it got kind of dark and disturbing and I didn't always like it but as a whole I loved the book.
My Ratings:
Cover: 2/5
Plot: 2/5
Characters: 4/5
Romance: 4/5
Action: 5/5
Plotholes: 4/5
Ending: 3/5
Overall Rating: 4/5
Recommend it to: Anyone who wants to read something dark set in an amazing world with powerful characters. At the same time, all the reasons to read this book make it PG 13.
Book similar to this: Cruel Beauty, The Masque of Red Death and Pure