Remember that post I did recently about Why New Adult Romance and I Have Never Got Along? I am forced to take some of that back. Don't get me wrong! I dislike the genre as much as I always have but I know that there are some exceptions (actually, if you read that post carefully, you'll notice that I never implied that all NA was bad.)
It's a truth universally acknowledged that NA is a sub-category of YA. As much as I dislike the New Adult genre in general, I'm not completely willing to write it off for this reason. It may also be because the 18-25 age bracket which NA is all about is one that I'm eagerly anticipating. Although…if NA's an accurate representation of that life, I may be actually willing to wait till I'm 18 and in college.
Getting back onto the topic of the hour: Lauren Layne. Lauren Layne's books aren't exactly quality literature. I'm sorry to say that, but if I had to classify it into a category it would be a guilty pleasure (for some of them but I'll get to that later).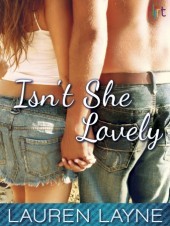 The first Lauren Layne book that I read was 'Isn't She Lovely' and it's a retelling of the ancient Greek myth of Pygmalion. In case you need a refresher, Pygmalion was a sculptor who one day, decided to carve a sculpture of his ideal woman. Ironically, he fell in love with her. He prayed she'd come to life and she did but eventually she was unable to live up to his expectations. I've always loved the myth of Pygmalion- it does show that you can't simply project your desires onto someone else because you'll only end up disappointed that way. However, I had no idea that My Fair Lady (which I completely adore, by the way) was inspired by Pygmalion.
Lauren Layne and her characters do a superb job casting themselves in a modernized version of My Fair Lady set in New York where instead of a cockney accent, it's her goth self that the protagonist has to give up. In true new adult fashion, the protagonist has a deep, dark past (which I'm sorry to say only evoked sympathy not empathy from me) and is using god-ugly boots and thick eyeliner as a shield to protect herself from her tragic past. She's grown to accept it as part of her and is understandably hesitant to cast it off, even if it's for the sake of a film project in which she has to infiltrate the upper echlons of New York society.
One thing that had me really excited me about the book was the beginning. Stephanie, the protagonist and main narrator begins with a sarcastic explanation of what a meet-cute is ( I totally get points for knowing what a meet-cute is despite hating film, right?). To be honest, I'm tired of meet-cute's- a couple's first meeting in which something embarrassing or totally embarrassing happens. When a couple has a meet-cute, they always have a good answer to 'So, how did you two meet?'- so when I got this sarcastic meet-cute, I was pretty thrilled. Although, slamming into a guy and having him help you pick up your feminine sanitary products…well that's really a meet-cute.
It's not just in this book. Lauren Layne has a real penchant for meet-cute's. In the sequel to this book Broken, I think there's a reference to suicidal tendencies and giving the 'circus-freak' a dollar to see his scars. In her book, Only For You, there's the mother of all meet-cute's- the love interest mistakes her for a …gasp! hooker! I'm still on the fence as to whether I like meet-cute's or not…
One thing that Lauren Layne was not able to convince me of is Happy Ever Afters. I still don't like HEA's and I mean no offense, but I really dislike the huge demonstrative ones in which you make a significant change to your lifestyle and then run half-way across the country to show your significant other how serious you are in your desire to get back together to your significant other. Maybe it's because I've never been in a relationship, but I really don't see the appeal.
The beginning and ending may seem a little formulatic but I can promise you the in-between is completely organic and beautiful. Lauren Layne is brillinant with her double- PoV . This is  made even more impressive by the fact that one character is male! The plot actually moves along (unlike most NA's) and the dialogue is so witty and cute it's…lovely.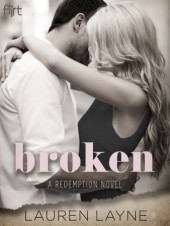 This is the case for the sequel to this book, Broken even though it's more angsty. It's also true for her The Best Mistake series which deals with older and more mature characters (and scenes). I wasn't able to properly enjoy her Sex, Love and Stiletto series because I highy doubt journalists are able to lead lifestyles like ones shown in the books-which reminds me, that a film-buff friend was unexcited by the lack of filmi-passion in this book.
That hardly makes Lauren Layne's books formulatic or even similar to each other. One thing I really enjoy about her books is how each romance is so different, but still so beautiful. I recently wrote to her
Me:
Not really a question, but after reading Isn't She Lovely, Broken, Only for You and Made for you- how is it possible that you're able to write such different romances and that they're all so great?
Her reply:
Aww, so sweet of you to say this! Especially since it's something I worry about as an author … there's always this sense that the "superfans" of one book won't like the next one because it's so different. Isn't She Lovely and Broken were especially like this for me!! Isn't She Lovely was snarky and funny, Broken was a bit more gritty. Was worried I'd alienate my ISL fans!

So it's lovely that you wrote this message 🙂 Mostly it comes down to trying to do your best by the book … writing the character/story as it comes into your head without deliberately trying to make it emotional/sad/funny, whatever.
Isn't that inspiring? Isn't she lovely?