May is a month when publisher go crazy. And readers even more so. So many brilliant books from brilliant series come out this month but these are 5 that I am literally drooling for.
1.)
Book: The Forever Song (Blood of Eden #3)
Author/Authoress: Julie Kagawa
Why: Julie Kagawa's a magician. Or maybe she's a witch. Or maybe she's part Fae. Because there is no way that she can write so many amazing series without the help of magic. I got lured into her Iron Fae series and then sucked into her Blood of Eden series. Pun intended both times. For once, we get evil, nasty blood sucking vampires. And for once we get a female MC that is the aforementioned type of vampire. And we all love it. This series is definitely one that can screw up its face and make taunting noises at  Twilight, House of Night, Vampire Academy and the Vampire Diaries. Nayh-nyah-nyah-nyah.
Release Date: May 1st 2014
Synopsis: Vengeance will be hers.
Allison Sekemoto once struggled with the question: human or monster? With the death of her love, Zeke, she has her answer.
Monster.
Allie will embrace her cold vampire side to hunt down and end Sarren, the psychopathic vampire who murdered Zeke. But the trail is bloody and long, and Sarren has left many surprises for Allie and her companions – her creator Kanin, and her blood brother, Jackal. The trail is leading straight to the one place they must protect at any cost – the last vampire-free zone on Earth, Eden. And Sarren has one final, brutal shock in store for Allie.
In a ruined world where no life is sacred and former allies can turn on you in one heartbeat, Allie will face her darkest days. And if she succeeds, her triumph will be short-lived in the face of surviving forever alone.
The final hunt is on.
---
2.)
Book: Torn Away
Author/Authoress: Jennifer Brown
Why: Jennifer's books always make me think and cry. And cry and think. Always. All of her books ; A Thousand Words, Hate List, Perfect Escape and Bitter End, always deal with such sensitive subjects in tasteful and delicate ways. Somehow, Jennifer Brown forces you to empathize and sympathize with the main character and their plight even though you never would have considered it before. Manipulative, I guess but I wouldn't have it any other way.
Release Date:  May 6th 2014
Synopsis: Born and raised in the Midwest, Jersey Cameron knows all about tornadoes. Or so she thinks. When her town is devastated by a twister, Jersey survives — but loses her mother, her young sister, and her home. As she struggles to overcome her grief, she's sent to live with her only surviving relatives: first her biological father, then her estranged grandparents.
In an unfamiliar place, Jersey faces a reality she's never considered before — one in which her mother wasn't perfect, and neither were her grandparents, but they all loved her just the same. Together, they create a new definition of family. And that's something no tornado can touch
---
3.)
Book: Little Knife ( The Grisha #2.6)
Author/Authoress: Leigh Bardugo
Why: Because Leigh Bardugo's a genius. That's why! She writes such compelling characters (especially male ones) and I just love how she's able to take elements of fantasy, sci-fi, fairytales and historical fiction and mix it all up together in a darkly creative way. It's a novella, so I don't even know if this book counts. But her last few novellas were pretty good. Espescially The Tailor and The-Too-Clever-Fox. Both of them gave insights to other characters and opened up whole new POV's. I'm counting on this book to tide me over until the third book, Ruin and Rising, releases.
Release Date: May 13th 2014
Synopsis: In this third Ravkan folk tale from Leigh Bardugo, a beautiful girl finds that what her father wants for her and what she wants for herself are two different things. 
---
4.)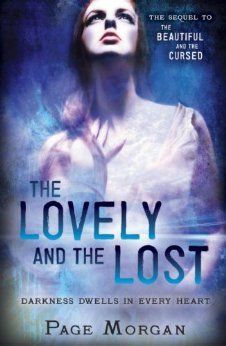 Book: The Lovely and the Lost (The Disposessed #2)
Author/Authoress: Page Morgan
Why: This is second book in this series. Surprisingly enough, I loved this series (or at least the first book and the short story) . It's about gargoyles and demons and is during the Victorian era in Paris. The characters are bold and devious in their own way. I just love the relationship between…everyone. Family, friends and the romance. 'Nuff said.
Release Date: May 13th 2014
Synopsis: Ingrid and Gabby survived the Underneath. They saved their brother, Grayson, from a future of dark servitude and exposed a plot to undermine the Alliance. But danger still lurks in the streets of Paris, and the Dispossessed, perched on the city's bridges and rooftops, might not be able to save their human wards this time.
---
5.)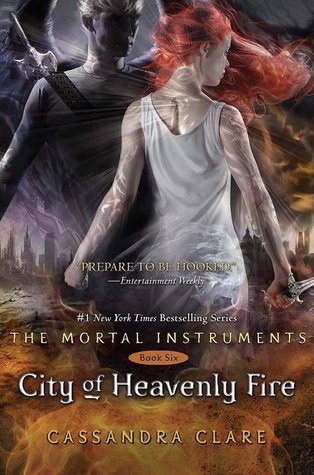 Book: City of Heavenly Fire ( The Mortal Instruments #6)
Author/Authoress: Cassandra Clare
Why: The Mortal Instruments and I got off to a rocky start but somehow I got ensnared into this strange but beautiful world of shadowhunters. This is the last book in the series and I'll be sorry for it all to end. I'll miss Clary, Isabella, Simon, Luke and Sebastian. And Jace too…maybe. Lucky me, I still haven't  read the Clockwork series. So, at least I'll have that to look forward to.
Release Date: May 27th 2014
Synopsis: Darkness returns to the Shadowhunter world. As their society falls apart around them, Clary, Jace, Simon and their friends must band together to fight the greatest evil the Nephilim have ever faced: Clary's own brother. Nothing in the world can defeat him — must they journey to another world to find the chance? Lives will be lost, love sacrificed, and the whole world changed in the sixth and last installment of the Mortal Instruments series!
---
Which books are you looking forward to?