Book: Exquisite Captive (Dark Caravan Cycle #1)
Author: Heather Demetrios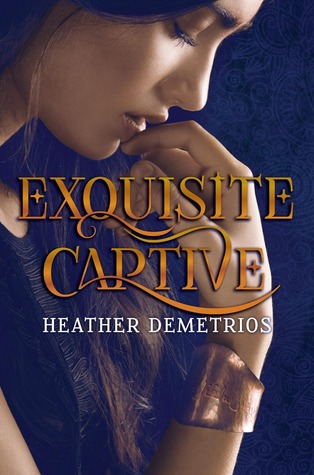 Blurb:
Forced to obey her master.
Compelled to help her enemy.
Determined to free herself.
Nalia is a jinni of tremendous ancient power, the only survivor of a coup that killed nearly everyone she loved. Stuffed into a bottle and sold by a slave trader, she's now in hiding on the dark caravan, the lucrative jinni slave trade between Arjinna and Earth, where jinn are forced to grant wishes and obey their human masters' every command. She'd give almost anything to be free of the golden shackles that bind her to Malek, her handsome, cruel master, and his lavish Hollywood lifestyle.
Enter Raif, the enigmatic leader of Arjinna's revolution and Nalia's sworn enemy. He promises to free Nalia from her master so that she can return to her ravaged homeland and free her imprisoned brother—all for an unbearably high price. Nalia's not sure she can trust him, but Raif's her only hope of escape. With her enemies on the hunt, Earth has become more perilous than ever for Nalia. There's just one catch: for Raif's unbinding magic to work, Nalia must gain possession of her bottle…and convince the dangerously persuasive Malek that she truly loves him. Battling a dark past and harboring a terrible secret, Nalia soon realizes her freedom may come at a price too terrible to pay: but how far is she willing to go for it?
Inspired by Arabian Nights, EXQUISITE CAPTIVE brings to life a deliciously seductive world where a wish can be a curse and shadows are sometimes safer than the light.
My thoughts:
'Oh gag me!' I think I actually said that out loud when I first saw the title of this book. Um…can I just say the title evokes a very different kind of book (I'm thinking explicit BDSM). The cover was nice enough but it wasn't enough to help me change my mind (you know what they say about first impressions- they're the most important).For that matter, neither was the blurb. So, I bet you're wondering 'Why exactly did she read this then?'. That's a good question. A very good question. I'd tell you the answer but I'm not sure of it myself.
But that's kind of irrelevant right now since I'm so glad I read the book. The world-building was a little hard to process (for the life of me, i can't remember all five of the jinn races) but at the end of the day it worked pretty well, providing a beautiful, dramatic backdrop to the plot of the story.  But other than the unfamiliar terms, it was amazing. With short, selective flashbacks and believable dialogue she creates Arjinna, a fictional realm which feels so realistic.Through these flashbacks, we learn about a complex military coup (and Nalia's pivotal role in it), the realm's social injustice and brazen attitude to violence.
I'll tell you one more thing that's essential to the plot- the characters. This book is very character driven.  Can you imagine anything more compelling than forced slavery, Stockholm syndrome, exotic djinn, a war torn land and a shit-load of guilt? I can't (but that's probably explains why I'm a terrible author).I just described our main character for you. She's trapped in a position of eternal servitude, but somehow she never comes across as defeated. She takes part in small, little rebellions against her 'master', Malek like wearing different clothes from the ones he gifted her or purposely misinterpreting wishes. She's passively aggressive- I love passive-aggressive characters espescially 'cause they usually come with a huge dose of wonderful, wonderful sarcasm.
Sometimes I felt that the light sarcasm was the only thing in this book which kept it from crossing the line over to the 'adults' section. With Nalia's guilt, her unwilling seduction of Malek and the question of slavery rearing it's head at every turn, this book had a lot of dark themes going on.  The humor that counter-balnced all of this was veryw ell placed and not over-done.
That brings us to the romance of the story; it's terrible. There's a love triangle but that's not completely unforigvable. What is unforgivable is how abusive both the male characters are. Unfortunately, this is something we see in a lot of young adult fiction. I've written about it here.
Malek, her 'Master' is physically abusive. He traps her in silver bottles (silver is poisonous to jinn), throws her into walls and tells her stuff like "We belong together." CREEPY. And then he tries buying her stuff in 'forgiveness'. I was disgusted when Nalia actually felt something 'real' for him. However, by the end of the story it's made clear that it was just a serious case of Stockholm Syndrome and when Nalia completely denounced him and his love for her, I burst into spontaneous applause.
Raif is really no better. He doesn't go as far as hurting Nalia physically but he keeps her at arms length, constantly referring to her as a 'Goat's whore' and reminding her of the terrible tragedies suffered by the majority of the djinn at her hands and the hands of her people. He backs her into corners, bargaining to give  her freedom if she betrays an oath that she took ages and ages ago. I hate to say it- no actually I don't- but that's not the most healthy relationship either.
The ending is a pretty good segue for the next book, Blood Passage,which should come out in 2015. There were no cliff-hangers so I wasn't left with a burning desire to read the next book right away but I think this is one of the books I'll look forward to next year.
My Ratings:
Cover: 2/5
Plot: 4/5
Characters: 4/5
Romance:1/5
Plotholes: 2/5
Ending:3/5
Overall Rating: 3/5
Books like this: Shatter Me (for the romance) by Tahereh Mafi,  Grisha trilogy by Leigh Bardugo