"So long as they go down, I don't much care if I go with 'em"
Book: Vengeance Road
Author: Erin Bowman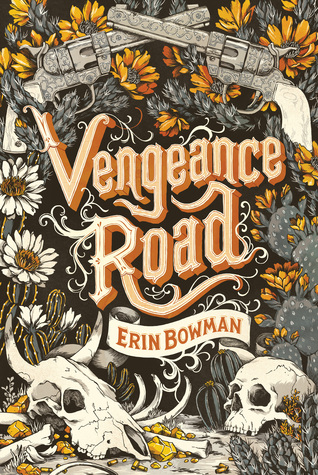 Blurb:
When Kate Thompson's father is killed by the notorious Rose Riders for a mysterious journal that reveals the secret location of a gold mine, the eighteen-year-old disguises herself as a boy and takes to the gritty plains looking for answers and justice. What she finds are devious strangers, dust storms, and a pair of brothers who refuse to quit riding in her shadow. But as Kate gets closer to the secrets about her family, she gets closer to the truth about herself and must decide if there's room for love in a heart so full of hate.
In the spirit of True Grit, the cutthroat days of the Wild West come to life for a new generation.
My thoughts:
I'm going to alienate a lot of people by saying this, but I've never been a huge fan of Erin Bowman. Throughout her Frozen series, I was reading out of a sense of duty ('You like young adult dystopia, ergo you must like this book') than any real fondness or appreciation for it.
In a lot of ways, this book reminded me of Moria Young's Blood Red Road. It features a very tough female heroine, who's supremely comfortable with weapons. And that's awesome. Unfortunately, it also has a lot of grammatical mistakes to authenticize 'dialect'. Unfortunately, that took a lot away from the experience for me. I was jarred every time I came across an  "Int" or an "Em" or an "I'se". Let's just say: It was a pretty bumpy ride.
So were there any positives?
Definitely. I loved the plot-line. Vengeance, cold blooded kills and dressing up as a guy- It's like the Ms. Bowman wrote this book with me in mind.
By extension, i loved the MC. The plotline was very character-centric. You know the plot was built for the character rather than the for the plot. But Erin Bowman has done a fantastic job with both.
""Now for the love of God, lower that damn pistol."
"All right," I says.
And I do.
Right after I shoot him through the skull.
Plus, when was the last time you read a YA book set in the Wild West. Oh! That's right-never. And it was fun. Outlaws and a search for gold- I loved the plotline. And it's probably why I stuck to the book as long as I did.
A quibble that might be minor or major to you depending on who you are. Some of the supporting characters are completely cliched stereotypes. The Native American girl had immense respect for nature, was an amazing guide and crept silently. To top it all off, she spouted off white stories. Ugh!
Then there was the mountain hermit, who kept panning for gold. He was as expected- big, loud, trigger-happy, superstitious, flannel-shirt clad and socially awkward.
I'm sure some of these facts are necessary to being a Native American or Gold Miner of the time period, but it's like that was the sum total of their characters.
The romance in this book gave me whiplash. Since when is a guy playing hot and cold attractive? Someone needs to tell YA authors that teenage girls are not masochistic. They don't thrill by falling in love with guys who can't make up their minds, anymore than adults do.
If dialect is something you can overlook and the Wild West and badass female MC's are what you want, I think you'll like this book. Otherwise, stay far far away.
Overall Rating: 2.5/5
Books You Might Like: Eon
Quotable:
"See you in hell, mister."
And that's where I'm going, sure as the sun will rise, 'cus I feel nothing. No remorse. No guilt. Not even a sliver of doubt. He deserved it, and I'd do it again.