Book: Lady Midnight (Dark Artifices #1)
Author: Cassandra Clare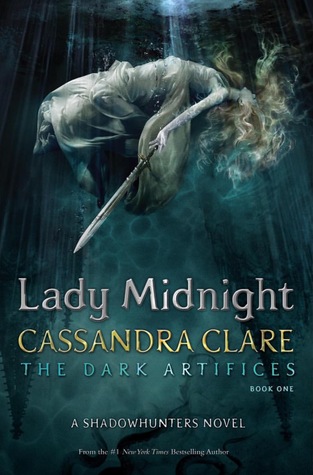 Blurb:
It's been five years since the events of City of Heavenly Fire that brought the Shadowhunters to the brink of oblivion. Emma Carstairs is no longer a child in mourning, but a young woman bent on discovering what killed her parents and avenging her losses.
Together with her parabatai Julian Blackthorn, Emma must learn to trust her head and her heart as she investigates a demonic plot that stretches across Los Angeles, from the Sunset Strip to the enchanted sea that pounds the beaches of Santa Monica. If only her heart didn't lead her in treacherous directions…
Making things even more complicated, Julian's brother Mark—who was captured by the faeries five years ago—has been returned as a bargaining chip. The faeries are desperate to find out who is murdering their kind—and they need the Shadowhunters' help to do it. But time works differently in faerie, so Mark has barely aged and doesn't recognize his family. Can he ever truly return to them? Will the faeries really allow it?
My thoughts:
So much controversy around this book. Complaints seem to revolve around the fact that this is  yet another book set in the mortal instrument world. I think this is the fifth series that Ms. Clare has set in this universe (Wow, I can't even…)
This series, the Dark Artifices, features Julian, Mark and Emma and is set 5 years after the Mortal Instruments concluded.  There's a brief appearance from Jace and Clary and crew in Lady Midnight.
Lady Midnight is from the perspective of someone who grew up the Shadowhunter way. As a result, there's a whole lot less disbelief and angel-worship (like hero-worship but angels because the shadowhunters are part angel, geddit?). Instead, we get thrown head-first into the world of the clave and it's shadowy politics: The law is hard but it is the law. Thank god! As someone who's read both the Infernal Devices and the Mortal Instruments, I think I would have been bored if I was forced to go over all the world-building again. I love the shadowhunter world. It's as exotic and on-point as always, very well though out and richly described.  But I wouldn't recommend Lady Midnight for a first Cassandra Clare book.
Now onto the characters. Personally, I had trouble connecting with Emma. Part of the issue may be that I was expecting a female Jace. While Emma does have fighting skills and a good amount of recklessness, she doesn't have the confidence that Jace seemed to exude in the Mortal Instruments. Though she has wholeheartedly accepted the Blackthorn's as family, she is constantly fighting to prove (to herself because no one else ever doubts her place) that she belongs. To me, it seems like she's trying too hard. At times she seems desperate and childish (especially when her parents are mentioned). I'm keeping an open mind because this is only the first book in the series and I know that character development has to take place. But currently, I would not consider Emma a positive role-model or even interesting.
"In the dark and shadows where secrets lived, that was where Julian survived. It was how he had managed for years."
It's hard to say what I think of Julian. Despite reading from his point of view several times, he's still mysterious to me. I sympathize with him because he's had the burden of caring for his family placed on his shoulders from a very early age. But he and the phrase "open-book" are direct antonyms.  He keeps everything so shuttered inside, it's hard for me to know him as a character.But I like him for sure. I predict he'll become more interesting as the series progresses.
Like always, Lady Midnight has a cast of well-developed and diverse background characters. There's fierce Livvy, supportive Cristina (who is running from her past), intense and somewhat stalkery Kieran, insane Arthur, "Perfect Diego"….The list goes on.
But my favorite character has to be Mark, the missing Blackthorn sibling.  After 5 years with the Wild Hunt, he is a very different character. Initially, he seems broken and incapable of functioning in the human world. But through the course of the book, he becomes more confident, dangerous and (dare I say it?) seductive. Initially, I shipped him with Cristina. Then I shipped him with Kieran. After that, I put him together with Emma. Finally, I gave up; I just want him to be happy.
Lady Midnight doesn't disappoint. Cassandra Clare's writing style and characterization has only improved since she wrote her first series. All the elements and world-building that made TMI successful are present in Lady Midnight too.
Rating 3.5/5
Quotables:
"When you love someone, they become a part of who you are. They're in everything you do. They're in the air you breathe and the water you drink and the blood in your veins. Their touch stays on your skin and their voice stays in your ears and their thoughts stay in your mind. You know their dreams because their nightmares pierce your heart and their good dreams are your dreams too. And you don't think they're perfect, but you know their flaws, the deep-down truth of them, and the shadows of all their secrets, and they don't frighten you away; in fact you love them more for it, because you don't want perfect. You want them. You want—"

"When no one you know tells the truth, you learn to see under the surface."