Because 'just me' isn't who we are," Iseult hollered back. "I'll always follow you, Safi, and you'll always follow me. Threadsisters to the end."
Book: Truthwitch (The Witchlands #1)
Author: Susan Dennard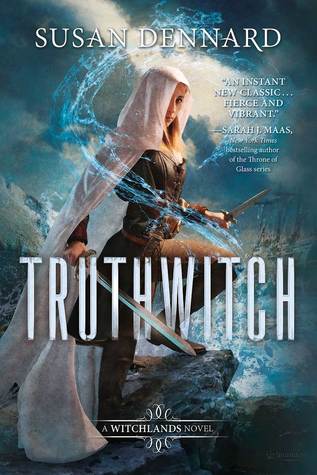 Blurb:
On a continent ruled by three empires, some are born with a "witchery", a magical skill that sets them apart from others.
In the Witchlands, there are almost as many types of magic as there are ways to get in trouble—as two desperate young women know all too well.
Safiya is a Truthwitch, able to discern truth from lie. It's a powerful magic that many would kill to have on their side, especially amongst the nobility to which Safi was born. So Safi must keep her gift hidden, lest she be used as a pawn in the struggle between empires.
Iseult, a Threadwitch, can see the invisible ties that bind and entangle the lives around her—but she cannot see the bonds that touch her own heart. Her unlikely friendship with Safi has taken her from life as an outcast into one of reckless adventure, where she is a cool, wary balance to Safi's hotheaded impulsiveness.
Safi and Iseult just want to be free to live their own lives, but war is coming to the Witchlands. With the help of the cunning Prince Merik (a Windwitch and ship's captain) and the hindrance of a Bloodwitch bent on revenge, the friends must fight emperors, princes, and mercenaries alike, who will stop at nothing to get their hands on a Truthwitch.
My thoughts:
I won't lie- I picked this book up for the cover, but I ended up comparing it to the Six of Crows.
…It did not compare favorably.
Like Six of Crows, Truthwitch uses multiple point of views to tell a tale of witchery and wonder, corruption and lies. However, I did not find the characters anywhere near as compelling. Initially, I keep getting mixed up between the heroines. I promise, it wasn't my fault. Their mental "voice" sounded very similar and their thoughts were almost indistinguishable. it was easier after I learned about their respective backstories and skills, but I still never got into the flow of reading it.
"Allow me to serve you, Safiya. We have spent too many years apart." "And I have spent too many hours between meals." A glare. "Give it to me now, Polly, or I shall castrate you with a fork."
If this was real life, Safiya would be diagnosed as a poor little rich girl. She has the obligatory skill with knives that YA fiction demands of its fantasy heroines, but somehow, she ends up disarmed multiple times throughout the course of the story. She's demanding. She's bratty. She yells a lot. (As if that'll help her get her way). She feels entitled to respect, to have people feel grateful to her. For me, it was a major turn-off.
Iseult was mildly more interesting- but only because she has a powerful backstory in the form of being a part of a minority race that is literally reviled. Also, it's strongly hinted that she has a very dark nature. But it's not enough; I'm still not invested in her.
The world-building was pretty confusing in this book too. I was continuously bombarded by names of places and characters. Inevitably, they all sounded similar. Reading this book was an exercise in frustration. I had to go back and refer to the blurbs to remember the MC's names. I don't remember the names of any of the countries. I couldn't possibly tell you what the villains motive was; although I do know it was highly patriotic.
"Oh, the Bloodwitch named Aeduan was no longer bored. No longer bored at all. And now he had work to do."
The romance in this book was a mess. Very hot and cold love interests with dubious motives. Also, they're borderline abusive. Trust me, nothing to swoon about.
This book was pretty disappointing. I'm puzzled by it's pretty high rating on Goodreads. My advice: Stay away, unless you have practice reading confusing fantasy in which the characters seem to blend into each other.
My rating: 2/5