"The point of being good is doing it when it's tough, not when it's easy."
Book: Half Wild (Half Bad #2)
Author: Sally Green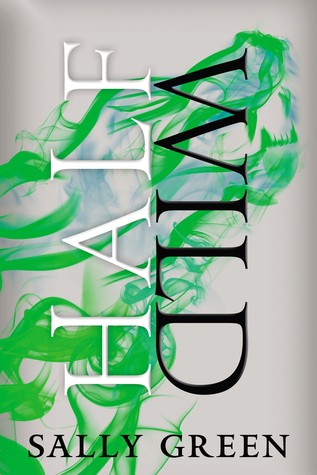 Blurb:
"You will have a powerful Gift, but it's how you use it that will show you to be good or bad."
In a modern-day England where two warring factions of witches live amongst humans, seventeen-year-old Nathan is an abomination, the illegitimate son of the world's most powerful and violent witch. Nathan is hunted from all sides: nowhere is safe and no one can be trusted. Now, Nathan has come into his own unique magical Gift, and he's on the run–but the Hunters are close behind, and they will stop at nothing until they have captured Nathan and destroyed his father.
My Thoughts:
This book is like taffy; It's a bit tough in the beginning  but it sticks to your teeth.
Weird description, but it holds true. I  promise. 🙂
In the first book, I felt sorry for Nathan. In that book, he was a child. Prosecuted, abused, frightened, eager to make the world like him. Nathan was the child locked away in the attic that you cry for. The poor little kicked puppy trying to so damn hard to be perfect. It was impossible to hate him- I could see why he wanted his family to accept him. But at the same time, it was impossible to be impressed by him.
In this one, he's evolved. He isn't a child any more; if I had to put him into an age group, I'd say angry teen who belongs to a gang. He's come to terms with the fact that there's a rift between Black witches and White witches. He's no longer bright-eyed, bushy-tailed- believing that if he's quiet enough, sweet enough, good enough- the White witches will stop judging him for the deaths that his Father caused. He's jaded and angsty. He's violent, less likely to look for 'painless' solutions. He's turned into a serious badass (complete with missing finger) and he's stopped trying to impress the Whites (well, except for Annalise but I'll get annoyed about that later).
Now, here's what I really hated about the book: Annalise and Nathan's obsessive quest to save her. Oh! Annalise with the soft white skin and blue eyes. Oh! Annalise who's a helpless, judgemental little twerp. Oh! Annalise- who I just can't seem to appreciate but Nathan had to spend the first quarter of the book rhapsodising about. Oh! Annalise I am so tired of hearing about you.
<Spoiler> She betrays Nathan to the white witches at the end and I'm almost glad because, finally he realises that he's idolised her, </spoiler>
One unique thing about this book: I have the feeling that the pretty girl will be replaced  as the love interest by the capable gay guy. That makes the protaganist bi-sexual (and a bit confused in the interim). No, I'm not making up weird slash fanfiction plots; <spoiler> Nathan does kiss Gabriel </spoiler>.  I really hope it ends up this way. I adore Gabriel. I loved the Nathan/ Gabriel dynamics when they were friends and I saw those dynamics shift (the dynamics are still as  beautiful) in this book.
"I can't not be with you, Nathan. I wanted to leave you in that grave and walk away but I couldn't. I can't walk ten paces away from you without it hurting me. I treasure every second with you. Every second. More than you know."
This was a pretty good middle book for the series. It carried along the plot further, made the relationships more interesting and elaborated on the history of the world.
Obviously, if you haven't read Half Bad yet, you should start with that one. Also, if you're wondering if Half Lies is worth springing for, (It's a short story about Gabriel's sister. She was a Black Witch who fell in love with a White Witch and when she was captured, the White Witches executed her.)  it definitely is.
Overall Rating: 3.5/5