"It was fun to crush your dreams, little girl. They were so fragile."
Book: Public Enemies (Immortal Game #2)
Author: Ann Aguirre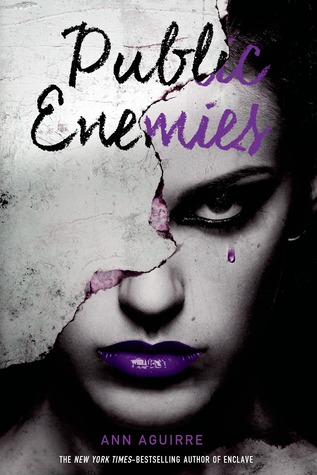 Blurb:
Learn the rules of the game…and then play better than anyone else.
Through a Faustian bargain, Edie Kramer has been pulled into the dangerous world of the Immortal Game, where belief makes your nightmares real. Hungry for sport, fears-made-flesh are always raising the stakes. To them, human lives are less than nothing, just pieces on a board.
Because of her boyfriend Kian's sacrifice, she's operating under the mysterious Harbinger's aegis, but his patronage could prove as fatal as the opposition. Raw from deepest loss, she's terrified over the deal Kian made for her. Though her very public enemies keep sending foot soldiers—mercenary monsters committed to her destruction—she's not the one playing under a doom clock. Kian has six months…unless Edie can save him. And this is a game she can't bear to lose.
My thoughts:
Here's the thing: I either love Ann Aguirre's series (Perdition, Enclave) or I detest them (Apartment #2B). And I found myself ambivalent towards the first book. The trend only continues.
In the first book, Edie (awful name, isn't it?) is bullied to the point of suicide. She practically sells her soul in exchange for revenge on her bullies. It was hard to relate to the humiliation of her bullying experience or the factors she considered before deciding to jump off a bridge. I sympathize with her but I just couldn't empathize with her.
Half of it was the fact that she was so pathetic in the beginning. I'ma huge believer in "It's not the fall that matters, it's the bounce." That's why it was impossible for me to see her as prospective role-model even after she gained confidence and an attitude. I'm aware this is  judgy of me, but I was reminded over and over again that she was so defeated, she planned to kill herself. The only reason she wan't dead was because someone had intervened artificially and offered her whatever she needed to make her life better.
I'm sorry, but I couldn't- especially when she became a Mary-Sue (kind, beautiful, strong and hard-working) instead of something at least vaguely resembling a human being.
Kian, the stereotypical love interest was hot (although it's interesting to know he 'wished' for it) but he was too-self sacrificing for my taste. He essentially stalked Edie for months on end, waiting until she was depressed enough to commit suicide. Then he appears out of thin air and they fall in love-instantly.   The 'friends'/ mean girls were walking cliche's too- catty bitches who take pride in humiliating other people and very status-conscious. They had the obligatory parental expectations and relationship issues.
What the first book lacked in characters, it made up for it in world-building. Eerie, creepy and totally imaginative. This is a world where are boogeymen are immortalized (with their frightening powers) by our imaginations.
I heard it but not in words because the thin slash of its vestigial mouth never moved. Cold crept toward my feet like an invisible fog as the thing produced an ivory vellum card.
Immortality is boring, so they spend their time playing  a very risky game with humans as pawns.
Tech brought forward from the future (literally?) Check.
Three wishes from a kind-of genie? Check.
Selling your soul to a powerful monster? Check.
I fell in love with the world.
The world grows even more layered in this book with the introduction of new characters (like the Harbringer!) and darker motives creeping out from already existing powers.
The characters have a little more depth in them this time around.  Edie grows more mature and less 'holier-than-thou'. Keenan's personality is examined more thoroughly and we see a lot of self-doubt and insecurities in him. Yes! Finally a human! I won't say anything mean about him in this review. <spoiler> I mustn't speak ill of the dead after all. </spoiler>
Her friends show up less, and her Dad finally makes more than a two-second appearance (maybe a 15 second one?).
I wouldn't say the characters in this book are my favorite- but they're becoming slightly more tolerable and the world-building is pretty fantastic.
On the subject of romance, a new love interest appears. I don't think we'll have to worry about a love triangle though. [Cakles evilly].
I'm pissed about the lack of responsible adults in the book. Adults, perhaps. Responsible, no.
For example,Dad mopes around the house Bella-Swan-style, saying alarming things like "I wish I had died". He arbitrarily grounds Edie once and then proceeds to get kidnapped by what he dubs 'foreign-spies'.
Very responsible, right?
Another thing I'm worried about is the Special-Snowflake syndrome. Edie is crucial, she is special, she is blah blah blah…. She has an awesome weapon with which she fights crime (or at least the boogeymen) and the power to create an army of ghosts. Also, she is gorgeous, intelligent and kind.
Spare me. Please.
Read this book if you can ignore cliched and iffy characters. Read this book if you want a spectacular world with grotesque villains. You read this book for the plot, not for the characters.