Title: A Court of Thorns and Roses (A Court of Thorns and Roses #1)
Author: Sarah J Maas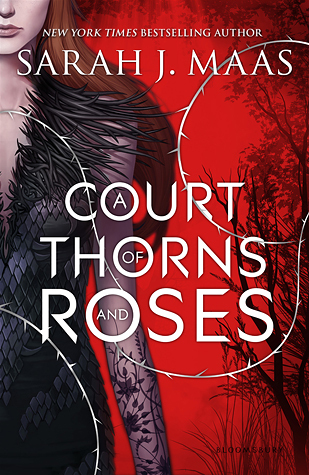 Blurb:
When nineteen-year-old huntress Feyre kills a wolf in the woods, a beast-like creature arrives to demand retribution for it. Dragged to a treacherous magical land she only knows about from legends, Feyre discovers that her captor is not an animal, but Tamlin—one of the lethal, immortal faeries who once ruled their world.
As she dwells on his estate, her feelings for Tamlin transform from icy hostility into a fiery passion that burns through every lie and warning she's been told about the beautiful, dangerous world of the Fae. But an ancient, wicked shadow grows over the faerie lands, and Feyre must find a way to stop it . . . or doom Tamlin—and his world—forever.
Perfect for fans of Kristin Cashore and George R. R. Martin, this first book in a sexy and action-packed new series is impossible to put down!
My thoughts:
I absolute adore the Throne of Glass series. So as soon as I knew that S J Maas was writing another book, it went on my TBR list-no questions asked. It's another retelling of the fairytale Beauty and the Beast along with a good, old-fashioned dose of village folklore and it's…beautiful.
I really didn't like Feyre at the beginning of the book. She just seemed so Mary-Sueish as soon as I found out she was single-handedly taking care of her family and they didn't even appreciate her. What was even more irritating was the fact that she had taught herself how to hunt and how to patch herself up once she got hurt. Not to mention her over the top distrust and cynicism. Cliche, anyone?
But I forgave Feyre quickly enough once she got over herself. The worldbuilding in this book was absolutely fantastic and so was the writing. Here are a few examples:
"I threw myself into that fire, threw myself into it, into him, and let myself burn."

"I was as unburdened as a piece of dandelion fluff, and he was the wind that stirred me about the world."

"You look . . . better than before."
Was that a compliment? I could have sworn Lucien gave Tamlin an encouraging nod.
"And you hair is . . . clean."
Elegant and beautiful, isn't it?
The love interest's in this book were a hundred times hotter than the ones in the Throne of Glass series. I'm sorry, but it's true. Tamlin was sweet and considerate at some times, totally feral and dangerous at other. And he was amazing, but really I'm all-like TEAM RHYSAND. If I read things correctly, we're going to have a love triangle (normally I don't like those but I'll make an exception for this series) on our hands in the next book. Join me on Team Rhysand because Rhysand is dark, mysterious, has scarier powers- Oh! And he gets the best dialogues.
So if you liked Throne of Glass, you're going to love this book. If not, you may like it but definitely not to the same extent. And I feel the need to warn you: this book is targeted to the older side of the YA audience. While you might enjoy it as a 16 year old, I wouldn't recommend letting your little brother or sister read this book.
Overall Rating: 3.5/5
---
Pearls of Wisdom from the Book:
"Because all the monsters have been let out of their cages tonight, no matter what court they belong to. So I may roam wherever I wish until the dawn."

A life for a life–but what if the life offered as payment meant losing three others?"