Book: Red Rising
Author: Pierce Brown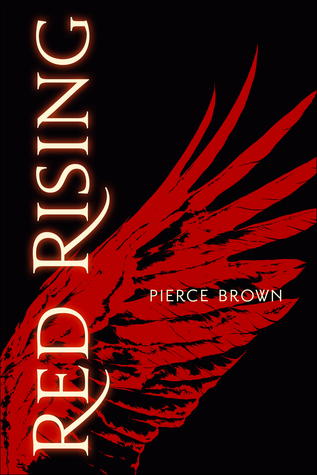 Blurb:
The Earth is dying. Darrow is a Red, a miner in the interior of Mars. His mission is to extract enough precious elements to one day tame the surface of the planet and allow humans to live on it. The Reds are humanity's last hope.
Or so it appears, until the day Darrow discovers it's all a lie. That Mars has been habitable – and inhabited – for generations, by a class of people calling themselves the Golds. A class of people who look down on Darrow and his fellows as slave labour, to be exploited and worked to death without a second thought.
Until the day that Darrow, with the help of a mysterious group of rebels, disguises himself as a Gold and infiltrates their command school, intent on taking down his oppressors from the inside. But the command school is a battlefield – and Darrow isn't the only student with an agenda.
My thoughts:
Any sci-fi fans out there? Any dystopian fans?
If you're anyone of these, you're going to love this book.
With absolutely no emphasis placed on worldbuilding (despite the amazing and complicated world that Pierce has created) you're going to be thrown in head-first, just like Darrow is.
What happens when you find out that your whole world- no, your whole universe is a lie?
If you're Darrow, then you infiltrate the upper echelons of the liars to bring out their hypocrisy and to snag their power. And you lie your ass off.
After his wife is executed, the only thing Darrow wants is revenge. The Sons of Ares transform him physically from a lowly Red to an upper-caste Gold. As he enters an institution to turn Gold born children into war-machines, space ship commanders and all-around masters of the universe, he's thrown into a very dangerous game (modelled after life) where he's forced to kill, to lead and to betray.
And as he forms strong friendships with his enemies-the Gold, he struggles with his own identity.
His own sense of communism is offended by how many liberties he and his friends take- but at the same time, he knows these liberties are the only things which allow him to survive.
This book deals with people. How to lead people, how to betray people and how to trick people. Darrow is a strong main character prone to flashes of anger and somewhat naïve at the beginning. The supporting characters- his wife, Mustang, Trey, Julian, Caleb, Roque, etc. are fleshed out character with real ambitions, real friendship and real betrayals.
The writing in this book is stupendous. Sometimes crude, sometimes flowery- always powerful.
Pick this book up and you'll have 382 pages of action, violence and drama.
This dystopia is better than the Hunger Games and more exhilarating than Divergent. Read it.
Overall Rating: 4/5
---
Quotables:
"Funny thing, watching gods realize they've been mortal all along."

" 'I live for the dream that my children will be born free. That they will be what they like. That they will own the land their father gave them.'
'I live for you,' I say sadly.
She kisses my cheek. 'Then you must live for more.' "

"Personally, I do not want to make you a man. Men are so very frail. Men break. Men die. No, I've always wished to make a god."

"Promises are just chains," she rasps. "Both are meant for breaking."