Book: Everything Leads To You
Author:: Nina Lacour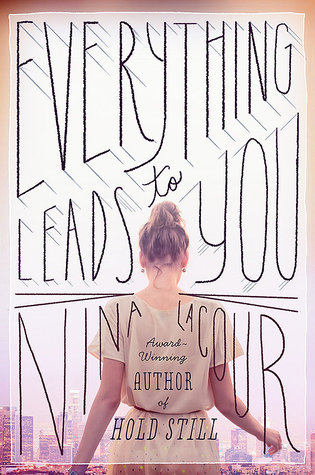 Blurb:
A love letter to the craft and romance of film and fate in front of—and behind—the camera from the award-winning author of Hold Still.
A wunderkind young set designer, Emi has already started to find her way in the competitive Hollywood film world.
Emi is a film buff and a true romantic, but her real-life relationships are a mess. She has desperately gone back to the same girl too many times to mention. But then a mysterious letter from a silver screen legend leads Emi to Ava. Ava is unlike anyone Emi has ever met. She has a tumultuous, not-so-glamorous past, and lives an unconventional life. She's enigmatic…. She's beautiful. And she is about to expand Emi's understanding of family, acceptance, and true romance.
My thoughts:
I loved the style of writing. Its lyrical and descriptive-gifting for a book which relies so much on mental images and is about cinematography.
This book actually reminded me of a French film. It lacked any real plot, and at points the actions of the characters seemed a bit more melodramatic than the situation warranted. But at the same time the book was beautiful, relying heavily on obvious but fitting and uncliched metaphors and symbols- kind of like how French directors are fond of letting the cameras linger over specific beautiful objects to highlight them and bring out a certain emotion.
Despite the fact that the whole book was in first person narration, the symbolic use  of sofas and lighting actually made sense because the MC was an artistic interior design prodigy. She gave us short and interesting explanations about how films are directed, emphasizing the role of art and background in setting the scene for certain shots. I learned more about how films create illusions and the inevitable collapse of fantasy for those who work on the sets than I ever thought I would. Though the information was plenty in quantity, the way the author has shared the information  never verges on the lecture category. Instead it seemed like the honest, unscripted voice of a mature teenager passionate about her craft- interior designing. Her passion was practically tangible and it leaked through her thoughts, speech and actions. Honestly it was the most beautiful part of the book.
The dialogue and plot had long, beautiful buildups before collapsing with a new twist, moving in a direction that seems almost contradictory to your expectations.
I think the part (pun not intended) I had most trouble with was the main character. She just seemed so…well adjusted. With Professor parents, amazing and supportive best-friend and brother, a sweet emerging romance and a career that was moving in leaps and bounds- there just seemed to be no conflict. Everything was just too perfect. I guess, the mystery was supposed to be the story arc. But to be honest, the mystery took a backseat to other personal crises (missing friends when they move to college, getting the guts tell your long time crush you like him, etc) which were wrapped up way too quickly and easily. The books biggest failing was its lack of story. And to be honest, that's something that can't be overlooked easily.
This book was a lot of firsts for me: First book with a gay/lesbian main character, first young adult book that was partially educational, first realistic, contemporary book with an MC that doesn't have an existential crisis,  first book set in LA that doesn't demonize paparazzi and so on. These firsts are probably the main reason I didn't close this book and leave it as a DNF (did not finish). The novelty of all these things somehow made up for all the blandness and predictability of the plot.
My ratings:
Cover: 3/5
Plot: 1/5
Characters: 3/5
Romance: 4/5
Plotholes: 4/5
Overall Rating: 3/5
Other Books Like this: Fanart by Sarah Tregay, On the Jellicoe Road by Melina Marchetta
Would I read Another book by this author:  Maybe… I enjoye this book despite it's lack of plot. And I enjoyed Hold Still too but…