"What I'm trying to get at is, as bad as everything seems, I think, at its heart, life is good. It doesn't throw anything at us that it knows we can't handle—and, even if it takes its time, it turns everything right side up again."
Book: In the Afterlight (The Darkest Minds #3)
Author: Alexandra Bracken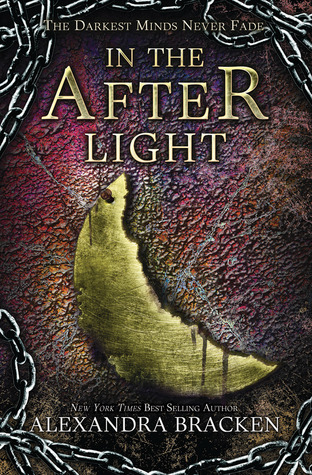 The Darkest Minds Never Fade In the Afterlight…
Blurb:
Ruby can't look back. Fractured by an unbearable loss, she and the kids who survived the government's attack on Los Angeles travel north to regroup. With them is a prisoner: Clancy Gray, son of the president, and one of the few people Ruby has encountered with abilities like hers. Only Ruby has any power over him, and just one slip could lead to Clancy wreaking havoc on their minds.
They are armed only with a volatile secret: proof of a government conspiracy to cover up the real cause of IAAN, the disease that has killed most of America's children and left Ruby and others like her with powers the government will kill to keep contained. But internal strife may destroy their only chance to free the "rehabilitation camps" housing thousands of other Psi kids.
Meanwhile, reunited with Liam, the boy she would-and did-sacrifice everything for to keep alive, Ruby must face the painful repercussions of having tampered with his memories of her. She turns to Cole, his older brother, to provide the intense training she knows she will need to take down Gray and the government. But Cole has demons of his own, and one fatal mistake may be the spark that sets the world on fire.
My Thoughts:
This was the last book in the Darkest Minds trilogy. If you haven't read the Darkest Minds and Never Fade, there's really no point in you reading In the Afterlight. Go read them instead. But for those of you who are loyal fans and have followed this series closely, trust me- this book is no disappointment. I'm certain you're all already planning to read it so I'm posting this review mostly to drive you mad with almost-spoilers (I won't actually be giving anything away though) until you get ready to pick up this book of pure awesomeness.
Ruby is more in touch with her powers than ever and is a lot stronger and assertive for it. Unfortunately, her new-found confidence and sharing secrets with Cole has brought some distance between her friends, Chubs and Vida, and her boyfriend Liam who don't know what to make of her any more. But while her relationship with her friends has deteriorated, shared secrets and command has brought her closer than ever to Cole. Both of them have common objectives- Making life easier for the kids, finding a cure and protecting Liam. I saw a lot of potential in Cole in Never Fade and he has lived up (maybe even exceeded) those expectations. One of the things which I loved most about this book was the reappearance of Zu. It's been a while since we (and the kids in this book) have seen her, but she's never been far from our hearts. She's back in this book as adorable and brave as ever, adding her name to Vida's, Cate's and Ruby's in a long list of strong, capable females in this series.
This book deals with more jaded, more cynical characters than the first book. Even Liam who was such an optimistic sweetheart in the first book (thus making up one half of one of my Top 5 YA Ships) has taken a heavy dose of reality and betrayal from those who love him most (I love Ruby, but what she pulled at the end of the Darkest Minds was inexcusable. Just inexcusable.) But though that optimism has dampened, it's not completely disappeared and the characteristics which made me love him in the first place are strengthened by ones that make me respect him. I had heard rumours that there would be a love triangle between Ruby, Liam and Liam's brother Cole. I am very happy to say that the rumours are very, very wrong. Cole was an amazing character (maybe one of my favourite characters this year)  with a lot of pressure on him and I'm very glad that Ruby was able to provide a strong and steady friendship- and only friendship- for him. I wrote a post about YA tropes. One of the things I mentioned was that in YA, guys and girls are rarely ever just friends. The Darkest Minds Trilogy (with the beautiful friendships between Ruby and Chubs and Ruby and Cole) make it onto the selective list of books which avoid this trope. That being said, I think Cole deserved a shot at happy-ever-after instead of what he got.
The plot escalates in this book although it didn't exactly WOW me. This book was really fast paced and while in some parts that was good…in others it wasn't.
The characters had a lot to worry about, and sometimes the book seemed a bit chaotic and fragmented as it jumped from action scene to action scene. There was so much tension and stress, we never got a chance to take a chance to breath and appreciate the characters for who they were.
As for the ending, I have a complaint similar to one I had for the Blood of Olympus. Everything just tied up too neatly for me…
My rating:
Cover: 4/5
Plot: 2.5/5
Characters:4/5
Romance:4/5
Plotholes:4/5
Ending:2/5
Overall Rating: 3/5
Will I Read Another Book By This Author: Yes, for sure. This series was one of my favourites. Alexandra Bracken is on my automatically- buy-books-from-this-author list.
Other Books Like This: Article 5 by Karen Simmons is a dystopia with a strong emphasis on 'camps'.