Book: Rites of Passage 
Author: Joy N Hensley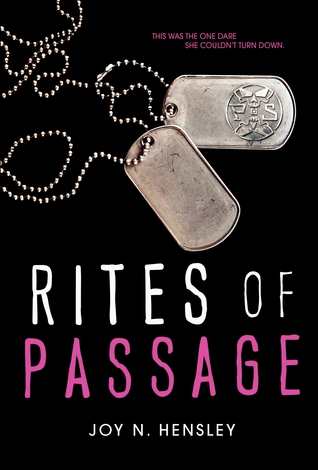 Blurb: 
Sam McKenna's never turned down a dare. And she's not going to start with the last one her brother gave her before he died.
So Sam joins the first-ever class of girls at the prestigious Denmark Military Academy. She's expecting push-ups and long runs, rope climbing and mud-crawling. As a military brat, she can handle an obstacle course just as well as the boys. She's even expecting the hostility she gets from some of the cadets who don't think girls belong there. What she's not expecting is her fiery attraction to her drill sergeant. But dating is strictly forbidden and Sam won't risk her future, or the dare, on something so petty…no matter how much she wants him.
As Sam struggles to prove herself, she discovers that some of the boys don't just want her gone—they will stop at nothing to drive her out. When their petty threats turn to brutal hazing, bleeding into every corner of her life, she realizes they are not acting alone. A decades-old secret society is alive and active… and determined to force her out.
At any cost.
Now time's running short. Sam must decide who she can trust…and choosing the wrong person could have deadly consequences
My thoughts:
When the cover came out, I was like 'meh' and then promptly  forgot it for a couple of months until the blurb came out… the blurb was a mega game-changer; it marketed the book as a chick-lit military fic. I've never made a secret of the how much I love chick-lit  (it's my guilty pleasure) or how much I enjoy reading about the army. Just reading the blurb was enough to push me to read it.
I'm a sucker for girls who have to prove to the world just how worthy they are. Sam is one of them – one of the first females to be allowed into a military school!  Right from the beginning, Sam realises that she doesn't have to be just as good as the boys-she has to be better. And she is-she's better at doing pushups, at maintaining her uniform and generally at being a recruit.  However, sexism plays a huge part in the army and there are a lot of guys who think she doesn't deserve to be there no matter how good she is. As a fellow female,I was rooting for Sam throughout the book. She is humiliated in millions of ways, forced to do strenuous physical training (which reminds me just how out of shape I am) and is ostracised by her peers and leaders (even her own brother) at every opportunity. At times, this book made me sick with anger and disgust. As a fellow female,I was rooting for Sam throughout the book; this book made me desperate for Sam to prove everyone wrong and make it through.
Sam rose to every occasion. She was fierce, determined…and a total badass. At the same time, she wasn't perfect. At several points throughout the book, she is almost ready to give up in despair and anger,her respect problems (I sometimes felt that she gave authority figures waaay too much respect) and serious lack of tact are enough to keep her out of the Mary-Sue box.
While there are a whole lot of jerks at school, Joy makes sure to develop back-stories and characters for all the cadets Sam comes in contact with. There's a major emphasis on the girls there but some of the boys are well-rounded too.
The romance doesn't play a major role in the book. There are two romances taking place (not simultaneously though, thank the gods!) but they remain light and seem more like a good friendship than epic declarations of love.
A lot of people were unsatisfied with the ending but I'm going to go ahead and be a little unpopular. I think the ending was fine for this book. After all, there were no loose ends left to wrap up and the book had succeeded in presenting the problem of sexism and how Sam fought against it; there was a introduction, character development, rise of action, climax, fall of action and a cute enough resolution. What more do you want? That being said, I wouldn't say no to a sequel.<winks>
What I like most about the book is the message that it promotes. The strongest theme of the book is feminism and it's splashed everywhere in this book in black, white and pink but the book takes a very serious stance against homophobia and bullying,  showing how -even now- the military is pretty close-minded. The book is inspiring; motivating and encouraging us (sorry to be cliche) to follow our dreams and never give up. Like any good YA book it sweetly cover what family is really about and the truth behind deep friendships.
My Ratings:
Cover: 1/5
Plot: 4/5
Characters: 4/5
Romance: 3/5
Ending: 3/5 
 Overall Rating: 3.5/5
Books like this:  If I Lie by Corrine Jackson