Book: Stone Cold Touch (The Dark Elements #2)
Author: Jennifer L Armentrout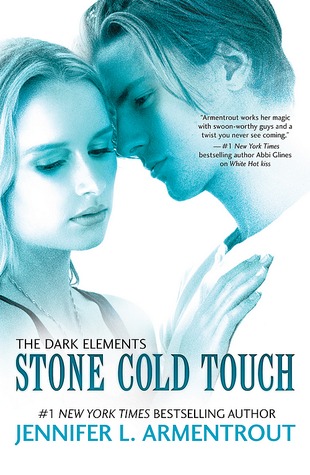 Blurb:
Every touch has its price
Layla Shaw is trying to pick up the pieces of her shattered life—no easy task for a seventeen-year-old who's pretty sure things can't get worse. Her impossibly gorgeous best friend, Zayne, is forever off-limits thanks to the mysterious powers of her soul-stealing kiss. The Warden clan that has always protected her is suddenly keeping dangerous secrets. And she can barely think about Roth, the wickedly hot demon prince who understood her in ways no one else could.
But sometimes rock bottom is only the beginning. Because suddenly Layla's powers begin to evolve, and she's offered a tantalizing taste of what has always been forbidden. Then, when she least expects it, Roth returns, bringing news that could change her world forever. She's finally getting what she always wanted, but with hell literally breaking loose and the body count adding up, the price may be higher than Layla is willing to pay…
My thoughts:
Sometimes I'm colossally stupid. I read the Lux series and I think I almost retched but then against my better judgement, I went ahead and read Half-Blood, which was even worse (and I didn't think that was even possible.) But sometimes (just sometimes) my monumental stupidity pays off and this is one of those times. Yes, I went out and read another Jennifer L Armentrout book (which just shows how hopelessly naive and optimistic I can be when it comes to books); I picked up White Hot Kiss which was the first book in the Dark Elements trilogy (yes I'm aware of how cliche and messed up the names are) and kind of fell in love (even though it was a guilty pleasure, because…yes, it's kind of messed up)
Stone Cold Touch is the second book in the Dark Elements trilogy. It came out recently- the 21st of this month, if I'm correct. I think I actually squealed out loud when I saw the book.
I think the plot kind of disappointed me. This book suffers from all middle-book syndrome. It's good enough to make you want to read the next book, but it's little more than a filler. The atmosphere of this book, with it's fresh 'mystery' isn't nearly as creepy as it is before. In fact, Layla seems almost detached to what's going on, more fixed on the turmoil of her unsteady powers and turbulent love life.
Layla doesn't mature much in this book (although she does muster up the guts to tell Roth off when he treats her badly) but there is a whole lot of character development in her friends and the background demons (Like Caymen) and Wardens (Dez and Danika) . But I think I was most blown away by Zayne.
Ordinarily, I'm not a huge fan of love triangles. I've been known to refer to them as 'trashy'. That's probably why I stay away from teams and everything that goes with an ordinary love triangle. But this is no ordinary love triangle; Zayne is the ultimate forbidden love (seriously, kissing Layla could perilize his soul). Layla grew up with him and he always played an elder brother role to her…until suddenly he doesn't see her as his younger sister any more. He's a Warden (as opposed to a demon) so that means he's a bit of a rule-follower. But to keep Layla safe, he's willing to hide a couple of facts here and there (like the fact that her snake tattoo ate up a warden who attacked her). He's less crude than Roth, but no less mischievous and playful  and the fact that he's always there for her, ready to give her support (unlike the last book) makes me firmly Team Zayne. However, like every other time I finally decide to choose a 'team', I know I'm on the losing team.  I can see which way the wind is blowing.  The age difference which kind of freaked me out in the previous book is still as present as it was in the first book and Layla clearly prefers Roth (even though he treats her much worse). Besides, Zayne is so the kind of guy who will let himself get all trampled over for the sake of his best-friend that he loves.
This series is good, but it still has the typical Armentrout stuff- you know, the kind that almost made me throw up when I read Obsidian and Half-blood. For one thing, the heroine is the star of the show; everything in the book centres on her even though her heritage is the only thing special about her.
Another thing that bugs me is even though Armentrout's books are supposed to be action-centric, they involve less fighting and more flirting. To further this, despite all the heroines wondrous skills and training (Head. Gutter. Out now!), she still is a damsel in distress, constantly waiting for the killing blow to be dealt by her boyfriend.
The ending absolutely killed me. I did not see that coming. I so didn't see that at all. The cliff-hanger of this book is just as spectacular and memorable as it was in her previous book (I think it cracked my top 5 list). I'm dying for the next book Every Last Breath, which comes out in late July next year.  Guilty pleasure. Don't judge.
My Ratings:
Cover: 4/5
Plot: 2/5
Characters: 2/5
Romance: 4/5
Plotholes: 2/5
Ending: 5/5
Overall Rating: 2.5/ 5
Will I read the next book: Yes
Book like this: The Lovely and the Lost by Paige Weatherly (more gargoyles, same part demon MC, less hot love interest, less cliches- you decide)