Book: Maid of Secrets (Maids of Honor  #1)
Author: Jennifer McGowan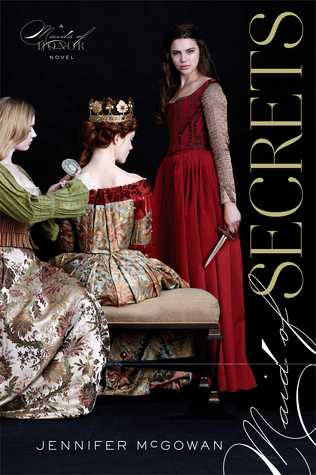 Cover: 4/5
Plot: 4/5
Blurb:
Orphan Meg Fellowes makes her living picking pockets—until she steals from the wrong nobleman. Instead of rotting in prison like she expected, she's whisked away to the court of Queen Elizabeth and pressed into royal service, where she joins four other remarkable girls in the Maids of Honor, the Queen's secret society of protectors.
Meg's natural abilities as a spy prove useful in this time of unrest. The Spanish Court is visiting, and with them come devious plots and hidden political motives. As threats to the kingdom begin to mount, Meg can't deny her growing attraction to one of the dashing Spanish courtiers. But it's hard to trust her heart in a place where royal formalities and masked balls hide the truth: Not everyone is who they appear to be. With danger lurking around every corner, can she stay alive—and protect the crown?
My thoughts:
I always love a protagonist who is a little bit bad. Assassins, mercenaries, traitors to their kingdoms, etcetra, etcetra. It's all in the moral dilemma.  Plus, it's always nice when the narrator is a bit spicy and not completely made of sugar. So when I saw this historical fiction set in Queen Elizabeth's court about a pickpocket, actor and eavesdropper who was fresh off the filthy, crass streets of poor Victorian London, I was immediately intrigued. Combined with the promise of an interesting romance and a lot of spy work, this book was irresistible. And it did a pretty good job living up to it's promise.
Character: 3/5
I adore Meg. She is smart and witty. I love the constant references she makes to theatre and acting. Although she may be a thief (or later a spy) by profession, Jennifer McGowan makes it pretty obvious that her true passion is acting. And Oh God! She does act well! Even when she finds herself in unfamiliar situations where her first reaction is to flounder, she is able to don an actor's mask and get what she wants.
Yet, throughout the book she's able to retain her air of innocence. She's almost simplistically naïve about the fact that her Majesty's spies may ask her to spy on them. Her discomfort with kissing and being in love and her clumsiness when she has to pretend to be both is simultaneously amusing and relatable.
The other maid's were portrayed very stereotypically. There's Jane the practical (I'm not sure what fits her best) killer, assassin?, Anna the smart one, Beatrice the pretty seductress (think mean girls) and Sophia who can see the future. However I'm still pretty sure we'll be able to see more depth in these characters. This book focused on Meg alone; the other books promise to focus on each maid of honor. Maid of Deception, which releases later this month will be Beatrice's story.
Romance:4/5
Count Rafe is a Spanish courtier (we later find out that he's only posing as one; his main role is a spy). Right from his first appearance in the book, he catches Meg's eye and he in turn is attracted by her. Meg makes use of this attraction to pick-pocket important letters and documents from him. When he catches her, he makes things a lot more complicated. Although it was pretty clear from the beginning that he was the main love interest, it wasn't so clear whether he was trust-worthy or not. Confident, bold and Spanish- what more can I say- I fell in love with him almost as much as Meg did.  This is one of the few historical romances that I actually like. They're both talented liars, pickpockets, and spies, providing us with a stunning amount of tension and chemistry
Ending:3/5
No cliff-hangers. No happy ever after. I kind of want to know what happens next but I don't think another book from Meg's point of view is necessary. I'm definitely looking forward to reading from Beatrice's point of view. She strikes me as a super interesting character and I hope she mentions Rafe and Meg's romance (at least in passing).
Plotholes:4/5
This was a very fun read. It probably wasn't linguistically accurate for the time (although kudos to Jennifer McGowan for trying); it probably wouldn't have much sense to me if it was though. From what I know of sixteenth century London, it's accurate enough.
There are no deeper messages entombed in the book. Or at least none that I could see. The book seems to answer two questions well: 'Who do you owe your loyalty to? and, 'Thief or spy?'
Overall Rating:3.5/5
This was a fun read and it's rare that I can say that for a historical fiction book. I'd definitely recommend this book to any teenage girl. I think you'd like the spy aspect of it, the gradual friendships and the romance. At the same time, you won't be bogged down with too much history or court politics.