Book: The Art of Lainey
Author: Paula Stokes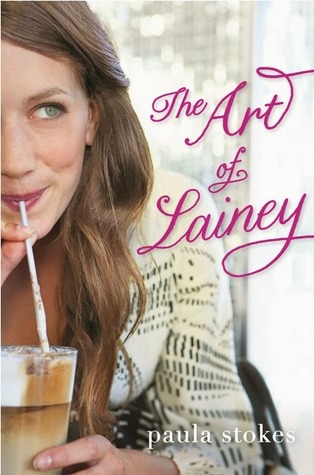 Cover: 4/5
Plot:5/5
Blurb:
Soccer star Lainey Mitchell is gearing up to spend an epic summer with her amazing boyfriend, Jason, when he suddenly breaks up with her—no reasons, no warning, and in public no less! Lainey is more than crushed, but with help from her friend Bianca, she resolves to do whatever it takes to get Jason back.
And that's when the girls stumble across a copy of The Art of War. With just one glance, they're sure they can use the book to lure Jason back into Lainey's arms. So Lainey channels her inner warlord, recruiting spies to gather intel and persuading her coworker Micah to pose as her new boyfriend to make Jason jealous. After a few "dates", it looks like her plan is going to work! But now her relationship with Micah is starting to feel like more than just a game.
What's a girl to do when what she wants is totally different from what she needs? How do you figure out the person you're meant to be with if you're still figuring out the person you're meant to be?
My Thoughts:
Yes, I thought the cover was really cute but in this case it was the blurb that drew me in. I was practically salivating to read this book after reading the blurb. For one thing, it promised lots and lots of girl power. If you want another reason, I'll give you one: I secretly (not so secretly now) love the whole premise of pretending to date someone to make someone else jealous. And this book did not disappoint. This book had girl power galore. Lainey uses the help of the Sun Tzu's famous book 'The Art of War' to make her ex-boyfriend see what he's really missing out on. At first her tactics were a bit obvious and weak but then she grows to be a skilful manipulator. At the same time she never loses her sweet, innocent and (maybe just a little bit) idealistic side. This book celebrates friendships- both new and old- ,the unconditional support they give and how they always do what (they think) will be best for you.
Characters:4/5
I really didn't like Lainey at the beginning. She's beautiful, popular, athletic, etc. etc. Worst of all is that she acts totally entitled and snobbish looking down on people who don't act like her or choose to look different. When her boyfriend breaks up with her, she gives such shallow reasons for why it was a bad idea. In the first hundred or so pages, I repeatedly cringed at Lainey and her desperate, stalkery behaviour.  But her lies the true beauty of the book: Lainey's opening of her world-view is gradual and it feels so realistic.  As a character she grows quietly and sweetly, empathising with people she would have never talked to before, going places she never would have before and taking the freedom and time to develop her own personality instead of conforming to her friend's expectations. This book really struck a chord with me. Yes, Lainey can be selfish and shallow. But then, that's part of being a teenager isn't it? . She's ordinary enough to make you feel like she's someone you know (maybe even yourself) but at the same time she grows and changes so much it's impossible not to admire her.  
Her best friend Bianca is there for her every step of the way. She's not as popular as Lainey but the girls have a true friendship that reaches way back.  They have an amazing relationshipthat is effortless to understand. Within seconds of Bianca appearing in the book I was completely invested in it. The loyalty and support between these two is completely heart-warming, even though the girls aren't entirely alike. I loved how Bee was there for Lainey when she needed to be, and managed to always say the right things, without feeling like a superficial sidekick. It reminds how powerful an ordinary friendship can be in a character-driven story, when written well. 
You can't help but hate Lainey's other best friends, Kendall who is overly popular (and obsessed with it), narcissistic and manipulative. But Paula Stokes does a good job developing her and at the end, you can sort of see where she's coming from…sort of.
Micah's sister was truly adorable. She was precocious enough to give good advice, enough flair to suggest blue clip-on highlights and just young and sweet enough to hero worship her brother and Lainey.
Paula Stokes really has a gift for creating side characters. All of them felt so realistic and well-rounded. I'd love to read a spinoff in any one of their point of views.
Romance:5/5
I fell in love with the romance. It may sound cliché but it's true. The romance was sweet, gradual an thoroughly beautiful. The love triangle was kind of a metaphor: Jason was Lainey's ex and he was the golden-boy. He was popular and he was the easy choice, the shallow choice. Micah was more difficult. He had tattoos and piercings, he baked pastries and was a bit of a softie inside. His subtle mocking challenged Lainey to step out of her comfort zone and broaden her horizons. Definitely one of my favourite love interests.
Plotholes:5/5
Other than Lainey's shallowness in the beginning, there was really nothing I was against. But even then, Paula  Stokes was laying the framework for the book so I can't really complain about that.
Overall Rating:4.5/5
One of my favourite 2014 releases. This book inspred me to go over The Art of War myself. Maybe I'll do a follow up post on that someday. In the meantime, go ahead and read this cute, sweet and fun book.