Book: Juliet Immortal
Author/Authoress: Stacey Kay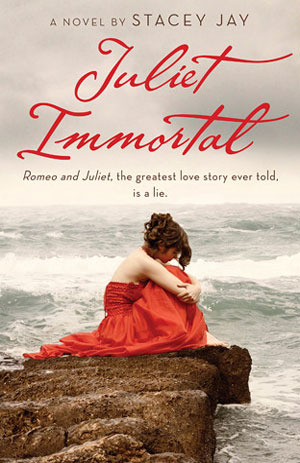 Cover: 5/5
Plot:4/5
Blurb:
An intense paranormal love story featuring Romeo and Juliet, literary history's most tragic couple, who meet again, not as true lovers, but truly as enemies.
The most tragic love story in history . . .
Juliet Capulet didn't take her own life. She was murdered by the person she trusted most, her new husband, Romeo Montague, a sacrifice made to ensure his own immortality. But what Romeo didn't anticipate was that Juliet would be granted eternity, as well, and would become an agent for the Ambassadors of Light. For 700 years, she's fought Romeo for the souls of true lovers, struggling to preserve romantic love and the lives of the innocent. Until the day she meets someone she's forbidden to love, and Romeo, oh Romeo, will do everything in his power to destroy that love.
"These violent delights have violent ends
And in their triumph die, like fire and powder,
Which as they kiss consume."
—Romeo and Juliet by William Shakespeare
My Thoughts:
Me? I'm the kind of girl who think's that the Romeo and Juliet love story is not an epic romance, but an epic case of insanity. At the very beginning of the drama, Romeo is obsessed with a girl named Rosalind but as soon as he sees Juliet, he instantly falls in love with her (and we all know how I feel about instalove). Moving along, Romeo and Juliet get married. I know that people got married early in those days but please keep in mind that these were 14 and 15 year old kids who met and fell in love within 3 days. Crazy, right? If you think that's bad- I haven't even started yet. A mere few hours after getting married, Romeo goes ahead and offs Juliet's cousin (in the name of self defense). But the part that irks me most about this loony story is that both of them commit double suicide. Even worse is that this willingness to kill one's self for the sake of love is glorified and touted as proof of 'twu wuv'.  So as soon as I saw this quote in this book, I kind of fell in love.
"Glamorizing death, making dying for love seem the most noble act of all, though nothing could be further from the truth. Taking an innocent life—in a misguided attempt to prove love or for any other reason—is a useless waste."

 
This was after I realised how much I liked having Romeo and Juliet locked on opposing sides of a war with Juliet protecting young lovers and Romeo in his batshit crazy way, coercing them to kill each other. Like, woah! I really, really liked the idea of Juliet attempting to annihilate Romeo instead of sighing over him.
Characters: 3/5
Juliet had a very clear, unique and easily identifiable voice. She was a seven hundred year old cynic who had died at age fourteen but was stuck inside a  sixteen year old's body. When you finally wrap your head around all that, you'll appreciate how hard it had to be for Stacey Jay to portray Juliet. Even though Juliet, as a rule, has a hard time trusting people, for an immortal she shows an unprecedented amount of compassion. Surprisingly, despite the fact she's beemake even though it made her so jealous.
Romeo…Oh! Romeo was totally and completely crazy. If there was an asylum for immortals, Romeo would have a place. Perhaps the most frightening thing about him was his utter disregard for humans and their ambitions. Or maybe it was the fact that he could lie without telling a lie and then when caught in the act, justify it all. Despite his evil ways, Romeo, like all seductive players, has a charismatic sort of  narcissism. You can kind of see why Juliet fell for him in the first place. Well that and the poetry.
Romance:1/5
Ugh! No to the romance. Ben is a sweet enough character I guess (who would have thought that he had anger issues? but the romance was love at first sight. How could Juliet be stupid enough to think that love at first sight was possible, again? I mean she must have seen where insta-love had gotten her in the first place: With a knife in her back. Literally. So why was she masochistic enough to go and do it all over again?
Ending: 2/5
The ending was as terrible as the romance. It was a quick, abrupt deus ex machina which made no sense at all. The rest of the book was beautiful; why did the ending have to spoil it all.
Plotholes:3/5
The insta-love. And the fact that Juliet's going thorough the whole fiasco a second time. Enough said.
Overall rating:
At times, this book was beautiful and poignant. I loved the whole new take on the epic Romeo and Juliet romance. I loved the setup of the world. So yeah, this book IS worth reading. 
However, the book has a few flaws- most notably, the instalove. I guess you can't escape instalove if you want to read YA paranormal romance. <sigh> Pity.