Author: Corrine Jackson
Where From: Haxton, Colorado, Untied States of America
Books: If I Lie, The Sense Thieves trilogy (Touched, Pushed and Ignited)
Awards: If I Lie is on the ALA Rainbow List, 2014
If I Lie: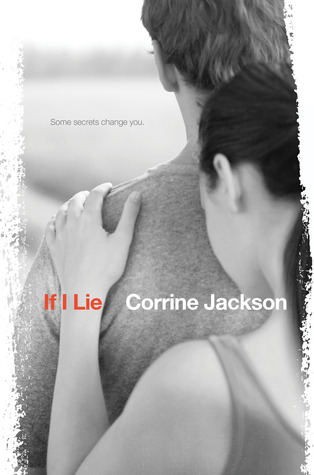 Blurb: Quinn's done the unthinkable: she kissed a guy who is not Carey, her boyfriend. And she got caught. Being branded a cheater would be bad enough, but Quinn is deemed a traitor, and shunned by all of her friends. Because Carey's not just any guy—he's serving in Afghanistan and revered by everyone in their small, military town.
Quinn could clear her name, but that would mean revealing secrets that she's vowed to keep—secrets that aren't hers to share. And when Carey goes MIA, Quinn must decide how far she'll go to protect her boyfriend…and her promise
My thoughts:
This book was a very emotional one. Not only is it a story about bearing burdens, guilt and the knowledge of the real truth. It's about facing shame, anger and the fact that you may have damaged a bond that was supposed to be unbreakable Quinn lives in a town where practically everybody is either military or related to someone in the military. They know what it's like to be in a war-zone in constant peril and wonder if your life at home remains waiting for you. And they can't tolerate the people who can't cope with a husband or boyfriend who's away. So when Quinn cheats on her boyfriend and a picture of it goes viral, she is ostracized by the town who is aghast that she was disloyal to the 'town hero'. But she didn't cheat on Carey. Not really. However, she can't bring herself to tell anyone that she didn't because if she did that, she would have to reveal the fact that Carey was gay. And there's not a lot of respect in the military for gay people.
At the same time, she has to cope with the abandonment . She caught her mother cheating on her father and told him.  Her mother dropped her off at her grandparents house and left. The book If I Lie is about torn families, friendship, and the army; it is also a story about hope and perseverance and the ability to find strength and courage even in the darkest of times.
Sense Thieves trilogy: Touched, Pushed, Ignited
Summary: Remy O'Malley is different. She can heal people. You would think that would be great except every time she heals someone, she absorbs their injuries into her own body. Only when she arrives Blackwell Falls does she realize just what she is. She's hunted –  both by Healers and Protectors, because she's half of both and she's got  the best of both worlds. She needs to be exceptionally strong –  both physically and mentally – if she wants to acquire a stable life. This is her story.
My thoughts:
Touched: I liked the first book even though at points it resembled a fanfic with huge parts of it based on angst and abuse (trust me, fanfiction frequently overoses on angst, trauma, abuse and all sorts of clichés). But Remy was a paradoxical character who while physically weak had a great deal of mental strength. The take on healing abilities was new and innovative and the romance was relatively simple and uncomplicated. As was the enemy. On the whole this book was imaginative, simple and sweet in certain places.
Pushed: Boy,was I surprised by the next book- in a good way. It lightened up on the angst and self-pity but the plot became increasingly more complex. A love triangle was introduced. But don't worry; it was the good kind. Remy and Gabe develop feelings for each other in a gradual way, bonded by a shared loss.  At the end of the book it was not at all obvious who she was going to choose because both men (yes men, not boys) had their strong points but didn't fall into the cliché good guy and bad boy roles. The enemy in this one was more complex as well. You don't find out who he is until the middle of the book and even then it's possible to say that he is more passionate about his cause than evil. But you won't walk away from the book thinking that.
Ignited: As far as conclusions to trilogies go, I think this is as good as it gets. This book was my favourite one. The ending was surprising but not completely unexpected if you paid attention to the foreshadowing in the previous books. In this book Remy struggles to keep her mental strength as tense arguments arise, the stakes change and awkward moments abound amongst her allies. At the same time she has to keep herself focused on defeating the enemy from the second book (I'd tell you who he is, but it would spoil the second book beyond reading) and detangling herself from her complicated love-life. At the end of the book, we don't get a perfect ending. But it comes pretty damn close.
So if Corrine Jackson is crazy, it's definitely in a good way. I'm planning to read her next book as soon as it comes out.