Book: 5th Wave
Author/Authoress: Rick Yancey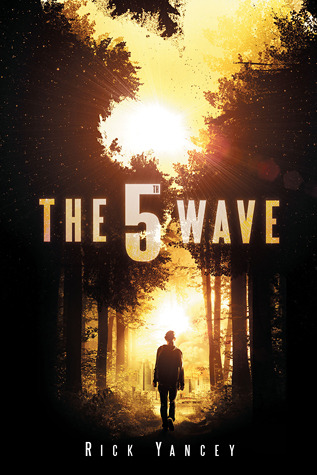 Cover:4/5
It' pretty, isn't it? It also fits the book pretty well. In fact, I can imagine several scenes in which the picture on the cover would be appropriate. 4/5 stars for this cover.
Plot:
After the 1st wave, only darkness remains. After the 2nd, only the lucky escape. And after the 3rd, only the unlucky survive. After the 4th wave, only one rule applies: trust no one.
Now, it's the dawn of the 5th wave, and on a lonely stretch of highway, Cassie runs from Them. The beings who only look human, who roam the countryside killing anyone they see. Who have scattered Earth's last survivors. To stay alone is to stay alive, Cassie believes, until she meets Evan Walker. Beguiling and mysterious, Evan Walker may be Cassie's only hope for rescuing her brother—or even saving herself. But Cassie must choose: between trust and despair, between defiance and surrender, between life and death. To give up or to get up
Contrary to what the blurb suggests, this book is not about zombies. Not even close. It's about aliens. Evil aliens.
For some reason (which is not revealed in this book but which will probably be revealed later), aliens decide to take over the Earth. Not content with simply being considered superior and having humans completely downtrodden, they want to remove all humans from the face of the Earth. And to do so they will go to extreme lengths. Really extreme. By extreme they mean much more than electromagnetic waves which prevent satellites and electricity from working and diseases for which there is no cure. I can't tell you much more about the plot without give you spoilers. Just let it be known that it's spooky, creepy and at points nail-bitingly scary. And more full of twists and turns than a road up a mountain.
Characters: 4/5
Cassie: Cassie is an overly-sarcastic and flawed (she knows it too) heroine who made a promise to her dear and departed Dad to keep her brother safe. Except he gets captured by aliens in the disguise of soldiers. So it's her job to get him back. As soon as you read the first few pages, it's obvious that she's deeply paranoid and missing a few marbles here and there. But we can excuse her for that. After all, she has been through a lot. Fans of Katsa (from Graceling) and Penryn (from Angelfall) will probably love this character.
Evan: He's the love interest. And is a pretty interesting character if I do say so myself.  Just as insane as Cassie and defintiely more dangerous. He saves Cassie's life (this is debatable). However I really can't tell you much without giving major spoilers. But since, I want to talk some more about this awesome character, let me give you 3 words: He's a traitor. Okay that tells you a lot while telling you absolutely nothing. But hopefully, this hint makes you curious enough to read this book.
Ben Parish: This guy carries a whole lot of emotional burden. Ben Parish is driven by a desire for revenge against the aliens who murdered his sister, and his own guilt because he was unable to stop them. He's crazily loyal and a pretty fierce protector. He would have made an ideal soldier but then he finds out the evil plot. Good for him, not so much for the aliens. Also, for some reason it is impossible to simply refer to him as Ben. Hence he is always known as either Ben Parish or zombie.
Nugget: He's Cassie's little brother and is sometimes stupidly naïve and trusting. But he's only 5 so I guess it's pretty much justified. I think one thing I envy him for is his blind faith in Cassie and then in Ben. Despite being so young, he's pretty much able to hold up his own in the team and I found his POV super interesting.
Besides these gems, we also have side characters who are pretty well rounded. We have the emotionally-stunted, Annie-Oakley like Ringer (three guesses why that's her nickname in the Army) and the brilliant survivor who used to be Cassie's dad.
Romance:2/5
Okay, the romance in this was pretty bad. For some reason, Cassie has a huge crush on Ben Parish, a guy who she hasn't seen since the beginning of the end of the world. …we-ird.
Then, if the romance between Cassie and Evan was a pattern of  footsteps, it would be like: one small step, one small step, a huge leap, another leap, run back as fast as possible, stampede forward (the space of four huge, flying leaps). Definitely weird. But if it's any consolation, there was some chemistry between the two. And it wasn't just because both of them were kind of crazy and weird.
Dialogue:4/5
This book is extremely quotable. We have the deep, profound stuff like:
"We're here, and then we're gone, and it's not about the time we're here, but what we do with the time."

Cruelty isn't a personality trait. Cruelty is a habit."

"How do you rid the Earth of humans? Rid the humans of their humanity

"What doesn't kill us sharpens us. Hardens us. Schools us. You're beating plowshares into swords, Vosch. You are remaking us. We are the clay, and you are Michelangelo. And we will be your masterpiece."
And there's the badass, honest stuff which somehow just makes you proud to be human:
"But if I'm it, the last of my kind, the last page of human history, like hell I'm going to let the story end this way. I may be the last one, but I am the one still standing. I am the one turning to face the faceless hunter in the woods on an abandoned highway. I am the one not running but facing. Because if I am the last one, then I am humanity. And if this is humanity's last war, then I am the battlefield."

"You can only call someone crazy if there's someone else who's normal. Like good and evil. If everything was good, then nothing would be good."

"When the moment comes to stop running from your past, to turn around and face the thing you thought you could not face–the moment when your life teeters between giving up and getting up–when that moment comes, and it always comes, if you can't get up and you can't give up either, here's what you do: Crawl."
And then there were sentences that were humorous in a dark sort of way. Just what you need when you're in the middle of a book full of the scary and the serious.
"We'd stared into the face of Death, and Death blinked first. You'd think that would make us feel brave and invincible. It didn't."

"There's an old saying about truth setting you free. Don't buy it. Sometimes the truth slams the cell door shut and throws a thousand bolts."

"What were they thinking? 'It's an alien apocalypse! Quick, grab the beer!"

"I would kill for a cheeseburger. Honestly. If I stumbled across someone eating a cheeseburger, I would kill them for it."
Plotholes:3/5
The romance= Not good. Other than that, I don't really have any complaints.
Overall Rating:3.5/5
Freakishly scary in some parts, this is what I had hoped what the Ender's Game would be like. Anyone who's a fan of aliens, apocalypses, survival and dystopian need to read this book. Falls in the same category as
Ashfall
by Mike Mullin,
The Darkest Minds
by Alexandra Bracken,
Unwind
by Neal Shusterman or
Angelfall
by Susan Ee.